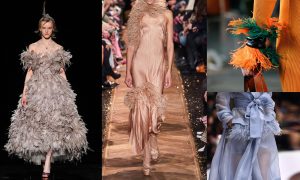 Feathers for Day
One of the most prominent trend to come out of autumn/winter 2019 show was feathers.
They were shown in various forms – some extravagant and some more subtle.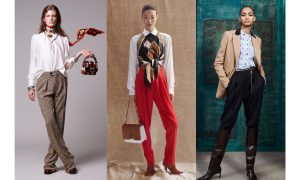 Chic Pleats
Another carryover of the '80s revival? In the new pleated pants,
its trousers with high, cinched waists exaggerated by pleated fronts and tapered legs,
creating a strong silhouette accented with a boyish blazer and knee-high boots.
Wear them with sneakers and a T-shirt during the day,
or swap in sky-high stilettos and a silk blouse for a sensual after-dark look.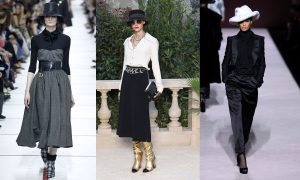 The Luxe Bucket Hat
The bucket hat trend is on every influencer's radar this season
and it got a luxurious reboot.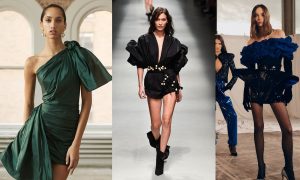 80's Mini Dress
A big ruffles on the little dress.
The '80s inspired mini is hitting its very leggy stride for Pre-Fall.
Get ready to party like it's 1989.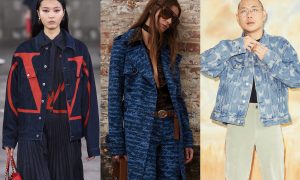 Screened Jeans
Consider a graphic twist with screen-printed jeans.
Most designers stamped their denim with bold logos symbols, and patterns,
giving the material a more graphic appeal.
It's a Plaid World
No pattern is as associated with fall and the back-to-school season quite like plaid.
Plaid suiting was all the rage this fall, but you don't have to give up checks.
A plaid pant looks surprisingly fresh with a flash of skin,
and a lightweight plaid blazer—in viscose or silk, not wool!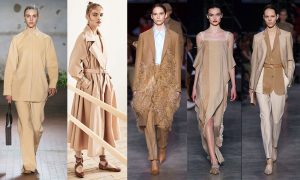 Butterscoth Beige
It might have been a big trend for SS19
(and one that was heavily adopted by the street stylers),
but there is no denying that not-so-boring beige was everywhere again.